Luther Victim is a loose collective of musicians formed around the song writing and singing of PJ Madadháin.
The first incarnation of the band was a collaboration between Madadháin and Scott McCullough - a founding member of Montreal's The Doughboys - that consisted mainly of very lo-fi 4-track tape recordings. Enlisting the services of drummer Sean Parnell, in early 1987 they journeyed to Toronto's Friendly Pirate Studios and recorded a five song demo. McCullough took this demo with him on the first Doughboys tour (with Henry Rollins and The Descendants) and had it played on various U.S. college radio stations. This was the first and probably the last time they would grace the airwaves.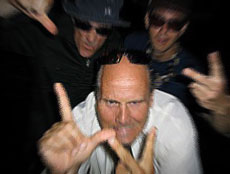 Following McCullough's departure from the Doughboys, the band reformed, adding pianist John Speagle, and began to document their work on four track cassette. Soon after, Drew Atkins joined on bass (also fulfilling those duties for The Asexuals). At some later, somewhat hazy date, guitarist Clive MacNutt entered the picture. He would go on to play with Alex Soira's post- Nils projects amongst countless others in Montreal and Toronto.

In early 1988 the decision to return to Friendly Pirate Studios was made. It was run by Pete Hudson, an elementary school friend of Madadháin's. Having no permanent drummer, the band coerced Ian Blurton (who still was playing drums occasionally with everyone from the Cowboy Junkies to Groovy Religion) into playing with them. With Atkins bankrolling the project, the lads recorded a batch of songs which would eventually form the basis of their only official release- a cassette entitled Fraught!.

Sporadic shows in Montreal and Toronto followed, the most notable being a couple of gigs at the Montreal Jazz Fest-back in the day when the St. Denis site still existed and the Foufoune Electrique had an outdoor stage. It was at this point that the Lutvics attracted the interest of someone at Aquarius Records in Montreal. However, a seeming lack of commercial musical ambition and various behavioral incidents combined to quash the possibility of a label release.
In the early 90's, various members of the group migrated to Toronto. The band existed-albeit still without a permanent drummer- playing the occasional show and recording new tracks at Friendly Pirate Studios and then Chemical Sound under the auspices of Darryl Smith and Ian Blurton. None of the newer tracks were ever actually released, just circulated throughout the local alternative musician community who were the group's only real fans. Musicians who drifted through the Luther landscape during these years -either on stage or recording - included Frank Nevada, Don Kerr, John Borra, William New, John McNeil, Todd Stafford, Joel Wasson, Mitch Perkins and Screamin Sam to name but a few.

Group members had always played with various other bands, but in '94, when McCullough formed the band Rusty with the three surviving members of One Free Fall, Luther as a somewhat functioning band ground to a halt. Madadháin-who in addition to writing and singing had always accompanied himself on acoustic guitar - began to play as a solo artist. Without the noisy machinations of the band clouding the landscape, Madadháin's natural high-lonesome folk-country style came to the fore, and the few recordings of this period reflect this. One of these is a performance recorded live at the Bathurst Street Theatre when Pat opened for Townes Van Zant.

The name Luther Victim had been arrived at in a seemingly offhanded way, after Madadháin and McCullough had watched a TV documentary on the slain U.S. civil rights leader in McCullough's Clark St. apartment sometime in late 1986. In the spring of '97, shortly after the breakup of his marriage, Madadhain had decided to take a road trip to Montreal in his 1960's Ford Custom to take in the Expos home opener and do a minor Montreal nostalgia tour. He went to have some beers at a West Island establishment he had frequented as a youth, on a street famous for the after last call vehicular homicide of a well known Canadian athlete.

Upon leaving the bar where Madadháin had noticed the beginning of some sort of dispute, he tried to return to his car. Walking behind him were two of the people from the bar dispute: a young (white) woman with her new boyfriend (who happened to be black). The ex-boyfriend (coincidentally, caucasian) of the woman involved then drove his car directly toward the couple at a speed of approximately 70 km/hr. They managed to leap out the way but Pat was not so lucky. The car struck Pat, throwing him thirty feet from the point of impact and depositing him face first on to the concrete curb. His jaw, cheek, brow, eye and orbital bone were smashed beyond recognition not to mention numerous other injuries. He would undergo many facial reconstructive surgeries- his face rebuilt with titanium plates and screws.

Luther Victim now has a site on My Space. Check it out...